Office Hours
The Prospective Student Center is located in Student Services West, at the base of the clock tower.
In-Person
Monday–Friday, 9 a.m.–2:30 p.m. PDT
Phone
Monday–Friday, 9 a.m.–12 p.m. PDT
Virtual
Monday–Friday, 12–4 p.m. PDT
Meet with an Admissions Counselor
Office Closures
Due to campus holidays, this office will be closed on the following dates:
2023: January 2, January 16, March 31, May 29, June 19, July 4, September 4, November 10, November 23-24, December 21-26
2024: January 1, January 15, April 1, May 27, June 19, July 4, September 2, November 11, November 28–29, December 24–27
Mailing Address
Office of Admissions
San Diego State University
5500 Campanile Drive
San Diego, CA 92182-7455*
*When you send us mail, please include the last four digits of the ZIP code to ensure your mail arrives directly to the Office of Admissions.
Email Us
Meet the Staff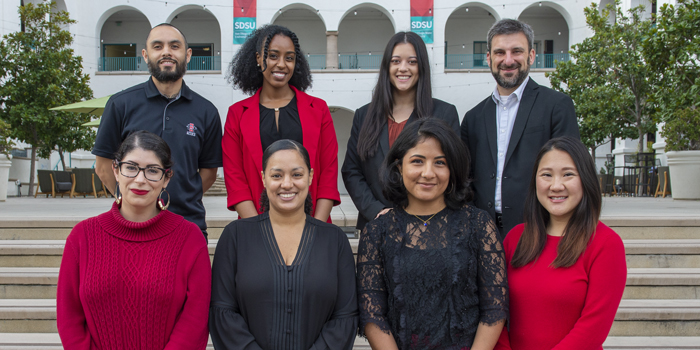 The Prospective Student Center services students from the state of California. If you have any questions about admissions, enrollment or the campus, please feel free to meet us virtually or email us. We are more than happy to help you.