Out-of-State Admissions
Contact Info
Mailing Address:
Office of Admissions
San Diego State University
5500 Campanile Drive
San Diego, CA 92182-7455*
Please feel free to call the out-of-state senior admissions counselors directly. Their phone numbers are listed below.
Due to campus holidays, this office will be closed on the following dates:
2021: January 1, January 18, March 31, May 24, July 5, September 6, November 11, November 25-26, December 24-29, December 31
Meet the Staff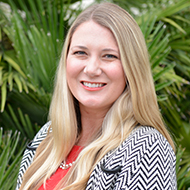 Kara Moriarty
Director of Out-of-State and Specialized Recruitment
Favorite Place on Campus: Turtle Pond – It's one of the most tranquil places on campus. I love the turtles and Koi fish. It was one of my favorite places to study when I was a student here!
Favorite Campus Eatery: Which Wich Superior Sandwiches – I love a good sandwich! It's also a great place to go meet up before a basketball game at Viejas Arena!
Favorite San Diego Attraction: Balboa Park – It's one of the most beautiful places in San Diego. It has a rich history with free events going on all the time and is home to the world famous San Diego Zoo.