Location
About San Diego, "America's Finest City"
The city of San Diego is California's second largest city, which borders the Pacific Ocean and Mexico, and is recognized globally as a dynamic international hub. Known for its ideal climate with daytime temperatures rarely below 60°F or above 80°F degrees (in other words, it's always flip-flop weather), San Diego has miles of sandy beaches, and a variety of things to see and do. SDSU's campus is within a 15-minute drive of downtown San Diego, the Pacific Ocean, and the mountains.
How Close?
10 miles   Beaches
10 miles   Downtown
50 miles   Mountains
75 miles   Deserts
95 miles   Disneyland
120 miles  Los Angeles
350 miles  Phoenix
500 miles  San Francisco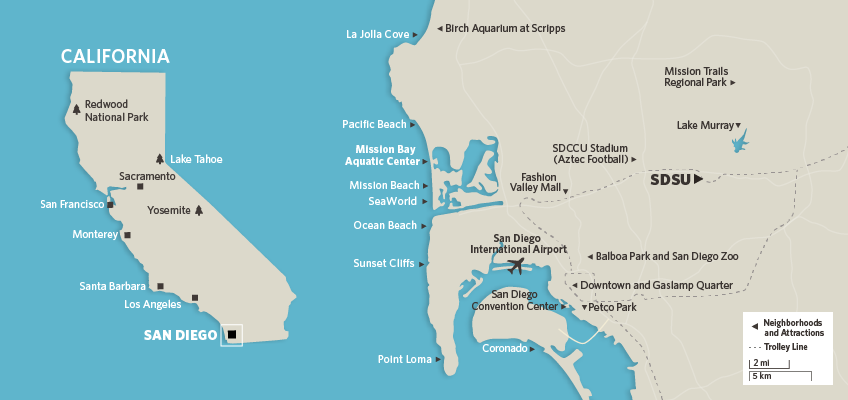 Living in San Diego
San Diego's geographic location and diverse regional population create plenty of opportunities for work, play and learning. From the hustle and bustle of the Gaslamp Quarter downtown to the charming and eclectic beach towns of Pacific Beach, Ocean Beach, and La Jolla, San Diego offers a wide variety of social and cultural activities. There aren't many places where you can watch the sun rise in the desert, build a snowman in the mountains in the afternoon, and watch the sun set into the ocean all in one day, but this is possible in San Diego.

Explore Our Beaches and Bays
Whether you want to go surfing, take a bike ride, explore tide pools, or spend a relaxing day in the sun, San Diego's beaches and bays have something for you. And to top it off, you can earn SDSU credit in water sports like kayaking, sailing, stand up paddling, surfing, wakeboarding, and windsurfing by taking classes at the Mission Bay Aquatic Center!
Grab your towel and take a break in the sun at San Diego's beaches and bays.

Set Foot on Adventure
Your adventure awaits! Hike sandstone bluffs overlooking the ocean in Torrey Pines or head inland closer to SDSU, and you can climb peaks to take in breathtaking panoramic views of landmarks over 100 miles away. Challenge your physical and mental limits with classes and outdoor excursions through Aztec Adventures.
Discover San Diego's hiking trails.

Celebrate the Arts
The arts are alive in San Diego and at SDSU. San Diego is home to two Tony™ Award-winning theaters, historic sites, art, music venues, dance performances, film festivals, galleries, and much more. In the heart of San Diego is Balboa Park, which hosts 17 museums and performing arts venues. And to top it off, SDSU hosts concerts for many well-known artists at our on-campus venues, Viejas Arena and the Cal Coast Credit Union Open Air Theatre, and hosts plays, musicals, films, music ensembles and dance in our multiple theatres.
Discover how arts are alive at SDSU and in San Diego.

Play Like a Local
There's never a dull moment in San Diego. This is the place to step out of your comfort zone, try something new, and perhaps discover a new hobby that you love. Whether it's taking in the arts, strolling one of the many outdoor shopping malls, driving up to Disneyland for a day trip, or soaking in the rays at the beach, there is plenty to do. So c'mon, what are you waiting for?
Live it up and explore the top things to do in San Diego.

Eat Like a Local
Due to the city's long history and close proximity to Mexico, there is an extensive variety of authentic Mexican restaurants to choose from, and given that our region is surrounded by farms and ocean, fresh local ingredients and farm-to-table roots create an excellent California cuisine. It's no wonder that San Diego was ranked No. 5 on Yelp's U.S. Destination for Food Lovers.
Getting hungry? The San Diego food scene is waiting for you.

Leave Your Mark on the Industry
Our region is an industry leader in biotechnology, engineering, life sciences, cybersecurity, innovation and technology, healthcare, and travel and tourism. With its proximity to the eastern edge of the Pacific Rim, Mexico, and South America, San Diego is a cultural center that provides opportunities for learning experiences. Through internships, mentors, and job placements, San Diego State provides students with opportunities to work in these industries throughout San Diego. This experience will prepare you for life after San Diego State as you graduate from SDSU and begin your career or take the next step in your educational journey.
Learn more about how San Diego State will prepare you for life after graduation.
It's Time to Visit Us

San Diego State is located in the mid-city region of San Diego and is easily accessible via car, plane, train, trolley, or bus.
Visit the Directions and Parking page ahead of time when planning your visit and don't forget to schedule your campus tour today.
We look forward to seeing you soon! Contact us if you have any questions.