Explore SDSU Admitted Student Day 2023
April 15, 9 a.m.–3 p.m.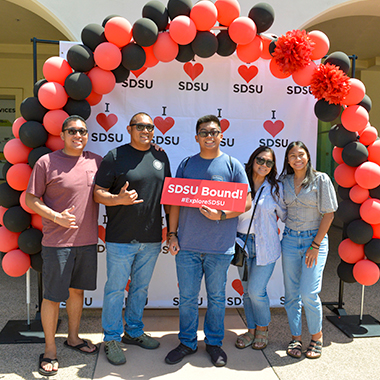 Admitted Students Only
You are invited to join us for Explore SDSU Admitted Student Day and learn why now is the time to join the San Diego State University family!
As an admitted student, this is your chance for you and your family to meet current students, campus leaders, faculty, and staff. Learn more about living on campus, financial aid, athletics, student organizations and services, and picture yourself as an SDSU Aztec!
Register today and we will email you updates.
Plan Your Day
Get a jump start on planning your day by downloading the FREE Explore SDSU Admitted Student Day app! You can find it on the App Store (for iPhone) or Google Play Store (for Android) or search "Explore SDSU". Got questions about the app or anything else related to Explore? Check out our FAQs.
The Day of the Event
Wear comfortable shoes—there's a lot of walking.
Bring your refillable water bottle. There are hydration stations around campus.
Allow 45 minutes to park and find your first event.
There is no check-in, just head over to your first event and start your day!
Plan to be flexible with your schedule. Information sessions and tours are first come, first served, and some may reach maximum capacity.
Visit an information booth (you'll find various locations across campus) if you need an agenda or campus map or if you have any questions.
Ready to commit to SDSU? Visit our Intent to Enroll booth to commit to SDSU at the event! You will need to have your $400 nonrefundable deposit ready when you submit your Intent to Enroll. Both your deposit and your Intent to Enroll will be submitted online via my.SDSU. The Finalize Your Enrollment Guide provides instructions on how to accept your offer and pay your deposit in my.SDSU.
SDSU is located at 5500 Campanile Drive, San Diego, CA 92182
Driving and Parking
Campus Parking is Free
You may park in any space marked for SDSU students (S), visitors (N), or faculty/staff (F/S) as well as any SDSU parking structure. Do not park in any special permit (SP) or service/vendor (S/V) parking spots. Allow at least 45 minutes to park prior to your first activity.
Exit I-8 at College Avenue and go south
Right on Canyon Crest Drive (first stop light after the freeway exit)
Right on Aztec Circle Drive (stop sign at the top of the hill)
Right into Parking Structure 12 (P12)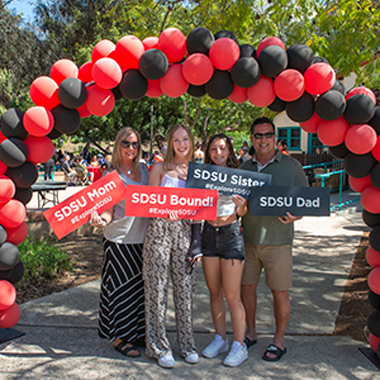 Disabled Person (DP) Parking
Disabled person parking areas are reserved for those persons with a valid DMV issued placard or plate. Drivers transporting a person with a disability may park in a DP stall as long as the disabled person's DMV placard or plate is present. In the event that all DP stalls are full, the vehicle may park in any visitor (N), student (S), faculty/staff (F/S), service/vendor (S/V), or special permit (SP) 900 parking stall. Should you require special accommodations because the location in which you wish to park is full on a consistent basis, please contact Parking and Transportation Services at [email protected].
Accept your offer of admission in my.SDSU by May 1.
Join the SDSU Family today!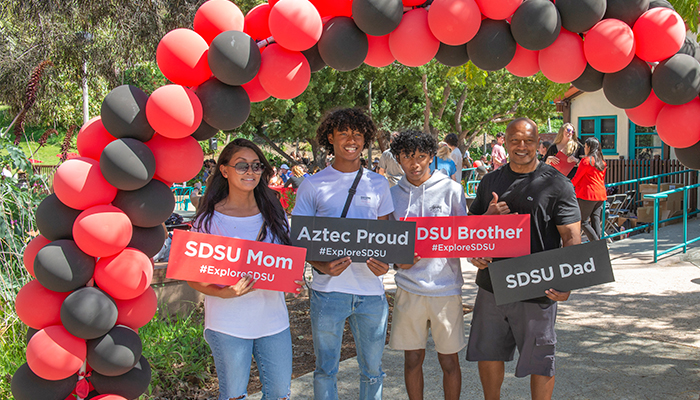 Frequently Asked Questions
Yes, this event is free to all attendees.
Yes, the event app is free and available to download now! You can find it on the App Store (for iPhone) or Google Play Store (for Android) or search "Explore SDSU".
The first time you access the app, you will be asked to input your email address. This does not need to be the same email address you used to register.
You may also see a pop-up window asking for a passcode. If so, enter 298327 (AZTECS).
You can now begin to view the sessions and create your schedule.
Add items to "My Schedule" to help plan your day, but remember to be flexible with your plans. Info sessions are first come, first served, and some will reach capacity. Saving an item to your schedule does not guarantee that you will have a seat in that session.
To add a session or tour to your schedule, select the item you're interested in to review more details. At the bottom of the screen, there will be an "+ ADD TO MY SCHEDULE" button. Tap this button to add the item to your schedule. View all your saved items under the "My Schedule" tile on the home screen.
Some users may be asked to enter a 6-digit passcode when signing into the app. You can log in using the passcode 298327 (AZTECS).
Although registration is not required, we encourage you to register so that we can stay connected with you about this event.
If you are an admitted student and have not submitted your Intent to Enroll, please visit my.SDSU and make sure that your contact information is up-to-date. This is the contact information that we use to stay in touch with you and remind you of important deadlines. Be sure to check your email often.
After you complete your Intent to Enroll, you will receive information about your official SDSU Gmail email address. Official communication from the university will be delivered to your official SDSU Gmail email address after your Intent to Enroll is submitted. Learn more about your official SDSU email. If you need to update your mailing address or phone number, please make these updates in my.SDSU.
Have you submitted your Intent to Enroll and are officially a new student? For reminders, tips, and more sneak peeks into SDSU life as you get ready for the fall semester, follow @sdsuadmissions. And don't forget to share your Explore SDSU photos with us @sdsuadmissions for a chance to be featured on our stories or feed! Join the Aztec community on social media by following @experiencesdsu.
SDSU's Facial Covering Policy
Effective Friday, Oct. 7, 2022, SDSU's facial covering policy is no longer in effect. Facial coverings are no longer required for instructional settings or the library. SDSU will continue to monitor the COVID-19 situation and communicate updates to the campus community.
For all, no matter one's vaccination or booster status, any individuals experiencing COVID-19-like symptoms must wear a facial covering if they are on campus to seek testing or as they exit campus to return home if they have onset of symptoms while on campus.
For more information, review the SDSU COVID-19 website.
NOTE: Facial coverings will continue to be required for all individuals in limited environments that have licensing or other requirements, such as Student Health Services.
Please email [email protected] if you have any questions about Explore SDSU Admitted Student Day.
We look forward to seeing you!