Spring 2024 Steps to Enroll
Congratulations on your offer of admission to San Diego State University! Embrace this moment and be proud of yourself. You have worked hard to get here and we are so excited to welcome you to the SDSU family!
Accept your offer of admission and reserve your place for spring 2024 by completing the Steps to Enroll listed below.
HOW TO SUBMIT YOUR INTENT TO ENROLL
Visit my.SDSU and select my.SDSU Login. Enter your SDSUid and password. For additional guidance on how to log in, please review Logging Into my.SDSU. Note: There are two ways to log in (at the upper-right hand of the page or mid-page.)
Select the Admissions tile to review your admission decision and information about next steps.
Select the Tasks tile in my.SDSU to review and submit all required items (To Do's) to finalize your enrollment. A status of "Initiated" indicates that the item still requires action. Once a completed item has been processed by the Office of Admissions, it will be removed from the list.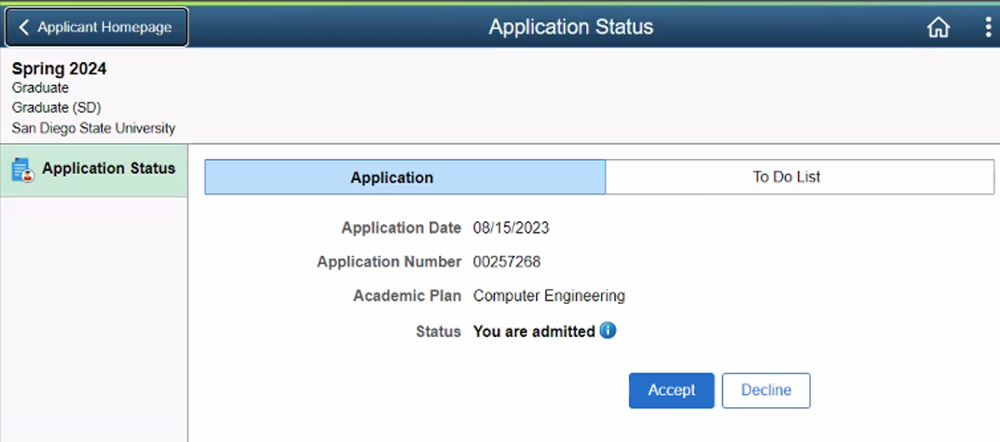 Disability Services
Student Disability Services (SDS) at San Diego State University authorizes and provides a variety of services and accommodations, which are determined on a case-by-case basis and in consultation with an SDS counselor. Their goal is to remove barriers to accessibility so that all students have an equal opportunity to be successful in college. If you will be applying for services from SDS, you are encouraged to apply as early as possible to assure that accommodations are in place by the time you begin your academic journey.