I Have Been Admitted
Fall 2019 Transfer Admitted Students
Congratulations on your admission to San Diego State University! Complete these steps to confirm your enrollment as an upper-division transfer, readmission or second bachelor's degree in nursing student.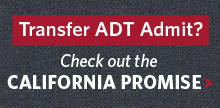 Follow the Steps to Enroll
To accept your offer of admission and reserve your place for fall 2019, you must complete the seven Steps to Enroll. For your reference, a printable version of the Steps to Enroll are also available.
Parents of Admitted Students
For more information review the Steps to Enroll for admission deadlines and the future Aztec parents website.